Enjoy Highest-Level Cloud Security
In today's digital business environment, threats are everywhere and security is absolutely essential. The days of simple firewalls are gone. Security practices, products and services keep your organization's data safe, protect private data and actively search for breaches.
Organizations are responsible not only for their own security, but also for that of their business ecosystems. The influx of applications and the way data is distributed has prompted governments around the world to establish strict information security regulations, to which businesses must comply. Today's organizations must not only comply with their own country's regulations, but also with international security standards such as GDPR & CCPA.
If your organization wants to benefit from highest-level security and compliance, then the cloud is the natural solution. But not just any cloud. Microsoft Azure environments employ the most advanced security and compliance management tools – so that you always stay safe.
Creating
a Secure and Compliant Cloud Environment
Aztek offers security and compliance services for organizations, that rely on Microsoft & leading cloud-based business environments.
Microsoft's cloud computing service offers a rich and robust work environment, packed with servers, systems and applications – including 3rd party products.  
Microsoft's premier business collaboration platform, which includes all Office services, Microsoft Teams, Microsoft SharePoint, OneDrive and more.
The Optimal Solution:
Aztek's Cloud Security & Compliance Process
Assessment
In this initial stage, our experts assess your security and compliance needs. We also review your systems, environments and user behaviors.
Implementation
In this stage, we implement Microsoft's advanced security and compliance solutions. These solutions are native to Azure and 365 environments, thus offering intuitive, holistic protection that works seamlessly with your operations.
Enforcement
We design and implement a compliance enforcement plan, which includes user, device and activity-based permissions, file classifications and a wide range of rules and regularities that protect sensitive data.
Monitoring
Our team constantly monitors your environments and your security and compliance solutions, thus ensuring that your data and privacy is protected at all times.
Keeping Leading Organizations Cloud-Protected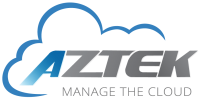 Let our experts secure your cloud environments. Get the most out of Microsoft's security solutions.