Enjoy the Benefits of Aztek Cloud Solution provider
Aztek is a Microsoft Cloud Solution provider (CSP) direct partner. This elevates us far beyond license reseller status, and allows us to offer localized, integrated and highly optimized cloud environment management to businesses from all industries. 
what are cloud-based solutions?
The Aztek Cloud Platform is an advanced system for optimized Azure and Office365 cloud service management. By choosing Aztek as their cloud solution provider, businesses enjoy robust Microsoft cloud environments – while benefitting from local Aztek management, monitoring and support.  
The Advantages of the Aztek Cloud Platform Services
Flexibility & Control
Easily add, change and remove licenses, packages and services. No complicated orders. Zero time-consuming hassle.
Zero Wait Times
Every change is updated automatically, so you can start working immediately. Billing is also updated accordingly.
User Management
Manage countless users and user permissions. Easily delete former employee users and transfer their permissions to new users.
Budget Transparency
View and evaluate your monthly/yearly bill. Access your account's current status and history. Know exactly where you stand.
Support
Use a user-friendly call system, and enjoy Aztek's expert support and predefined SLA, which is a reflection of Microsoft's Service Level Agreement.
Billing
You pay only for the licenses you order, on a monthly basis, with no up-front payments. Every change you make is reflected automatically in your bill, and displayed in your online account.
The Preferred CSP for Leading Organizations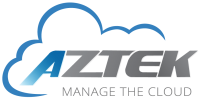 Manage Better. Work Better.
The Cloud is Easier with Aztek.